Lyn Stickland – Owner, Manager & Instructor BEES1 (France) and BHSAI (UK)
I am owner and the manager of Sports Equestres de Belle Ferme. I first sat on a pony on a pony family pony trekking holiday in Wales at the age of 6, and decided there and then what I wanted to do with my life..  We didn't even own a goldfish at the time!  From the age 10 to 25 I participated in many different competitions in various disciplines, particularly show jumping. Throughout my holidays I spent my time with the well know Show Jumping rider, Michel Parot. (Check out Tanqarville, who holds the World Record for Puissance, 2m 47). I passed my teaching instructions in France and England. After this and throughout my twenties  with the help of my family and particularly Angela – we began building from scratch the Equestrian Centre we have today.  Since my daughter Clarissa was born, I spent many years travelling to Germany and mostly Holland to improve and train in dressage.
Throughout these passionate and at times difficult years, I spend my time doing all equestrian jobs, many years of mucking out stables early mornings, to turning out and bringing in horses, teaching all disciplines, dressage, eventing, showjumping,  hacking, camps, secretary, lorry driver, competition coach, many years of 7 day weeks in a job were holidays didn't exist. Today have the pleasure of working in the equestrian centre we created from nothing. 
In 2003, we suffered a family tragedy. My to be husband Bernard Ibos died suddenly, the day before our wedding. I decided it was time to make the most of life and I wanted to get back to riding more and teaching less. I decided to focus on dressage and continue this dream with some of Belle Ferme's students. I pursued this passion for many years. June 2019 saw another big change. I was diagnosed with leukemia and had to spend many months in hospital also for a bone marrow transplant. I returned to Belle Ferme for my recovery, however I was not allowed near the horses or the stables for many months. For now, on the road to recovery I am slowly getting back to a resemblance of a normal life, step by step!
Angela Koppanyi – Family
Angela is the 'Grandmother' of Belle Ferme. Mother to Lyn and Robert, and Grandmother to Clarissa, Jeffrey and Enzo. Without her Belle Ferme would not be as it is today, or maybe not even there at all! Angela started the riding school – at that time it was called the Pony Club of Cessy – in 1983. Angela looks after the office, but also the exterior repairing fences, taking care of horses and sometimes teaching. She has an eye on everything!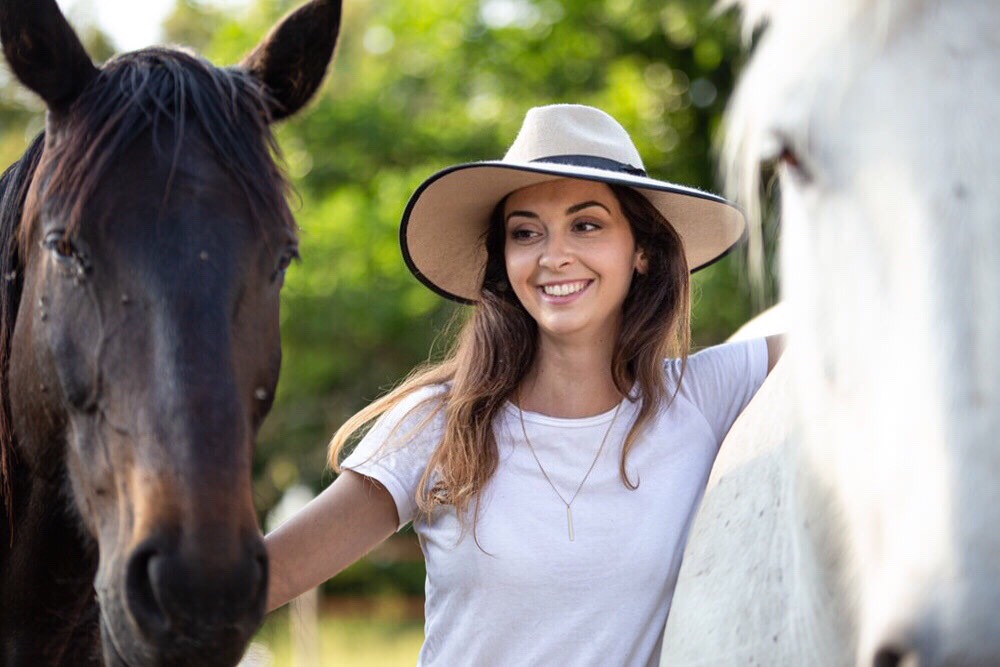 Lina Maruzzi BPJEPS instructor
I was born in the heart of the Alps, in Chamonix Mont-Blanc. Supervised by my father, a ski instructor, and my grandfather, a mountain guide, surrounded by snow and cold … I chose to go horseback riding! My path seemed to be all mapped out, and yet I followed a very different road from that of the mountaineer: that of the horse world. I first studied languages ​​at the universities of Lyon and Paris. I worked and had the chance to live abroad.  Enriched by these multiple experiences, I resumed horse riding intensively to become a teacher. Fascinated by animals, I deepened my knowledge of equine behavior by observing wild horses alongside scientists. Convinced of the importance of understanding the horse in order to live alongside it, I chose to follow a course at Haras de la Cense, combining scientific knowledge with the practice of equestrian sports. Now holder of the BPJEPS equitation and the Federal Ethological Equitation Certificate, I am proud to share my knowledge with you at Belle Ferme.
Alizée Adamek BPJEPS

Born in 1985, I come from Provence and I have been riding since the age of 6, with a few breaks to study according to my family's wishes… From age 10 to 26 we had two horses with us at home, their contact and presence taught me a lot and helped me learn about them. My artistic sensibility allowed me to leave home  and become a graphic designer in Paris, but the love of horses and the desire to have a healthy and active lifestyle caught up with me. I have been preparing for my professional retraining for years and I have finally arrived at my destination, ready to pass on my passion and to accompany you in this wonderful school of life by developing your qualities as riders.
Celia Marchand DEJEPS Dressage
I am from the Tarn, and I have been passionate about the horse world since I was little. I started riding when I was 12, and I was immediately drawn to the discipline of Dressage. As learning and the transmission of knowledge was also ingrained in me, I already knew at that age that I wanted to teach this discipline as an adult. With a few small detours, I managed to achieve this goal: to graduate from DEJEPS Dressage. I arrived at Belle Ferme in May 2021, where I teach this great discipline of Dressage, being attentive to the needs of the horse and the rider. I will be working part time at Belle Ferme, in general Thursday midday to Saturdays. 
Clarissa Stickland – Family
Clarissa (born in 1999, daughter of David & Lyn, and sister of Rachel) has only ever lived at Belle Ferme, and grew up surrounded by horses and ponies. She rode for the first time long before her birth (so got a head start!) And participated in her first international competition at the CDIP of Zwolle, Holland, in 2010, to represent France at the age of 11 years old. Since then, Clarissa was a member of the France team with her pony Diana from 2010 to 2014. They were both reservists for the European Championships in 2011, and were taken on the team in 2013 (Arezzo, ITA) and 2014 (Millstreet, IRL). In 2015 Clarissa proceeded to horses and took on Don Bencedor Van Het Lisperhof (Ben!) With whom she was the French Junior Champion in 2016, and participated in the French Team at the European Championships in Oliva in Spain. Clarissa now lives in England where she studies at the university.
Lukasz Wrycza – Groom
Lukasz has been with Belle Ferme since August 2018 and like Darek, he does an excellent job in the stables. He is an asset to the team and since arriving has learnt an incredible amount of English. Lukasz is originally from Slupsk, Poland and also has family back in Poland. He enjoys volleyball, swimming, reading books on history and psychology. So far, he has had one lesson on Betise but hopes to have more!
Darek  – Head of stables and groom 
Darek is responsible for the stables and grooms. He has been with us for many years and his work, efficiency and impeccable thoroughness makes him indispensable The smooth running of everything related to the maintenance of stables, fields, tractors, and arenas is thanks to him. Darek  comes from Poland where he has his wife and two children. His leave is therefore always to return home. Sometimes his little family also comes to visit him at Belle Ferme.
WE WILL DO OUR BEST TO OFFER YOU AND YOUR CHILDREN THE HIGHEST LEVEL OF RIDING WHILST HAVING FUN AND MAINTAINING RESPECT FOR THE HORSES!

Horaires
Lundi: 16h00 - 21h00
Mardi - Samedi: 09:00 -12:00 , 13:30 - 20:00
Dimanche sur RDV

Opening hours
Monday: Closed
Tuesday - Saturday : 09:00 - 21:00
Sunday by appointment